Welcome!
White Dog Promotions is a proud 2016 BBB Torch Awards Winner (St. Louis Better Business Bureau). We are not just an online promotional products company, but a company with roots and a strong local presence in Columbia, Missouri. We specialize in business branding, golf tourament goodie bags with sponsor logos, trade show giveaways and custom printed fundraising items.
Easy Ordering - Shop online or call us at 877-875-1144. We want to help!
Solar Eclipse Glasses - If you're in the path of the solar eclipse of 2017, we have a wonderful opportunity to advertise your company on custom solar eclipse glasses. You can only view the eclipse with special glasses from a certified factory. We're working with two certified factories, and have custom glasses ready to print, or "stock" glasses to purchase in bulk. Give us a call, toll free at 877-875-1144, if you have questions or need more information.
Product Showroom - See and try before you buy. We have 1000's of products at our local showroom. Stop by and pick up a chamois style microfiber cloth for you phone or iPad. We've tested a lot of cleaner cloths... These are the BEST cleaners with a terrific price point: under $1.00 at 100 pieces. Check them out!
Tried and Tested - Don't be fooled! There are many look-alike promotional products. We constantly review and test product samples to be sure we are offering the best products and values on the market.
QUALTIY for your dollar - Rest assured that we DO NOT SELL cheap pens that won't write or tolerate low quality or poorly printed merchandise. You'll be happy with your order!
Nationwide Shipping - We ship products factory-direct all across the nation. Our website includes products that may look exactly alike, but ship from different states. If you are in a rush or planning to purchase a bulky item, we are happy to help you quickly deteremine the best product(s) to ship from the closest location. Call toll free at 573-875-1144
FREE marketing ideas and FREE artwork assistance, OUTSTANDING Products, COMPETITIVE Pricing. You've come to the right place!
Yes, we have: Best trade show giveaways, cool golf goodie bag tournament giveaways, copper vacuum insulated tumblers, discounted USB drives, fun vet dog giveaways, discounted refresco straw tumblers, digi clean screen cleaners, micro clean screen cleaners, grocery totes, leather padfolios, Swiss Army knives, popular golf tournament giveaways, opper fiber screen cleaners, paw shaped chip clips, Drizzle Stik flex golf umbrellas, business cards, banners, printed dog leashes, leather business card holders, custom tote bags, printed 4 GB USB drives, printed ipad or touch screen stylus pens, printed, custom printed vacuum insulated tumblers, Yeti-like vacuum insulated tumblers, laser engraved bamboo cutting boards, double wall thermal tumblers, Port Authority silk touch shirts, printed golf towels .... and that's just to name a few!
Better than a Yeti? The "Chill" and "Glacier" are COPPER vacuum insulated and HOT!! (or cold!)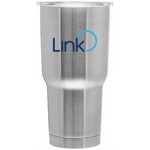 30 Oz Stainless Glacier
30 oz double wall 18/8 stainless steel thermal tumbler with copper vacuum insulation and clear push-on lid; Hand wash recommended Do not microwave. Complies with FDA, Prop 65. 8" H x 4.25" W
$14.99 - $16.99
What Our Customers Are Saying

White Dog Promotions has always provided top notch service for my company and myself. Their dedication and hard work has consistently out performed my expectations. Her customer service and atten...
Chris Lunn
Senior Mortgage Broker, Columbia, MO